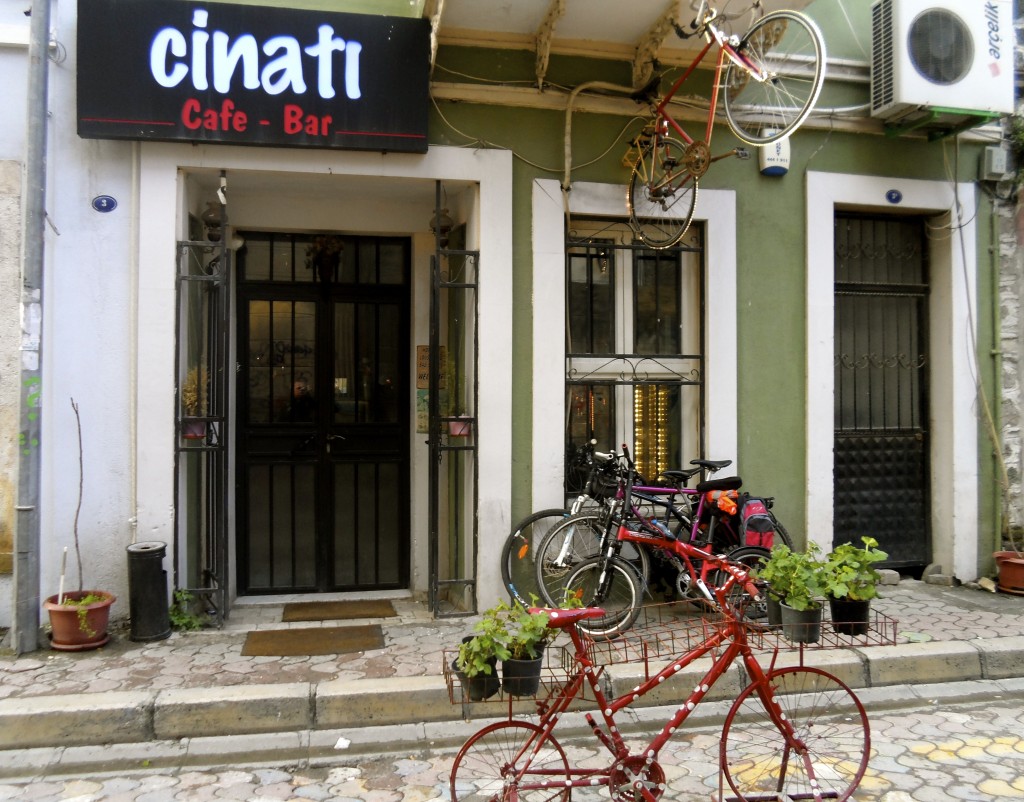 A cafe with bicycles, micro brews and live music. That is exactly what I like. Cinatı cafe in Izmir has all that and a great intellectual, party loving crowd too.
I found this little place purely by chance when I was in Izmir earlier this year. I was walking down a little side street in the alsancak district, where I was staying. There was a little cafe decorated with old bicycles. Being a bicycle fanatic I of course had to stick my head in and That was a great idea.
The Cinati Cafe is quite narrow from the outside. But it's fairly deep and has a stage in the back, where they have live music several times a week. When I was there I heard a couple of different bands. they were both really good and the crowd was superb. The people who hang out at the Cinatı cafe is typically intellectuals, artists, gays, people who like cycling and rebels in general. I had a few very nice chats with some of the regulars there, between listening to live music and drinking their excellent Turkish micro brew beer.
They have brilliant Turkish micro brew at the Cinatı cafe.
Normally in Turkish bars, you have the ordinary big international beer brands. And then also the turkish Efes beer. But at the Cinatı cafe you also have a beer brand called Gara Guzu. That is the best beer I have had in Turkey so far. This is really fine micro brew beer that I will highly recommend to any beer lover. If you are a beer lover, then it's worth going to the place, purely to taste that beer.
My final verdict is that this is a great place to go if you like to hang out with free thinking local turkis while in Izmir. And be in a setting with live music and great beer. You might just find me in there too, as I totally love the city of Izmir. It's located in a street called 1469 Sokak. It's about one block from the seafront and a 5 minute walk from the Alsancak train station. You can check out their facebook page Here.
Cheers everyone. Or şerefe as they say in Turkey.