I have eaten at Casinha do Petisco in Lagos more than 300 times.
I eat in restaurants more than 300 days a year. And I have quite a few places I really like. And some that I don't like. But of all the places I eat, Casinha do Petisco in Lagos is the one place I will always pop by when I am in the Algarve.
The restaurant has a very humble entrance. From the outside it just looks like the average little snack bar where people pop by for a coffee. But if you stick your head in you will notice that most of the tables are filled there with locals at any given day. And there are a few good reasons for that.
The owner, Luis Rosa, is simply the best cook in the Algarve.
Luis used to work as a chef at the nicest hotel in town. But him and his wife decided to open their own little place a few years ago and be their own boss. And all of us who know them are very happy about this.
It's just Luis, his wife and usually one waiter that works at the place. So we are talking about a real small place here and not some big fancy restaurant trying to make some quick cash. This is a real local joint that just happens to make world class food.
The food Luis makes is typical no nonsense Portuguese food which I must say can be a little boring at times in many restaurants. But Luis can take it to a whole other dimension and make every day food a feast.
I first walked into the place in 1999 when I was living and working in Lagos. And the rest of the restaurants in Lagos have since then hardly made a penny on me, cause I feel outright silly to pay more at other places when I also know that they will never come close to what I get at Casinha do Petisco.
In 1999 and 2000 I had dinner at the place almost every night, while I was working the summer season in Lagos, selling boat trips along the coast. And I have since then made many visits to Lagos. Both as a holiday maker and as a tour leader, I have never passed the chance to pop by for a meal when in Lagos.
What to eat at Casinha do Petisco.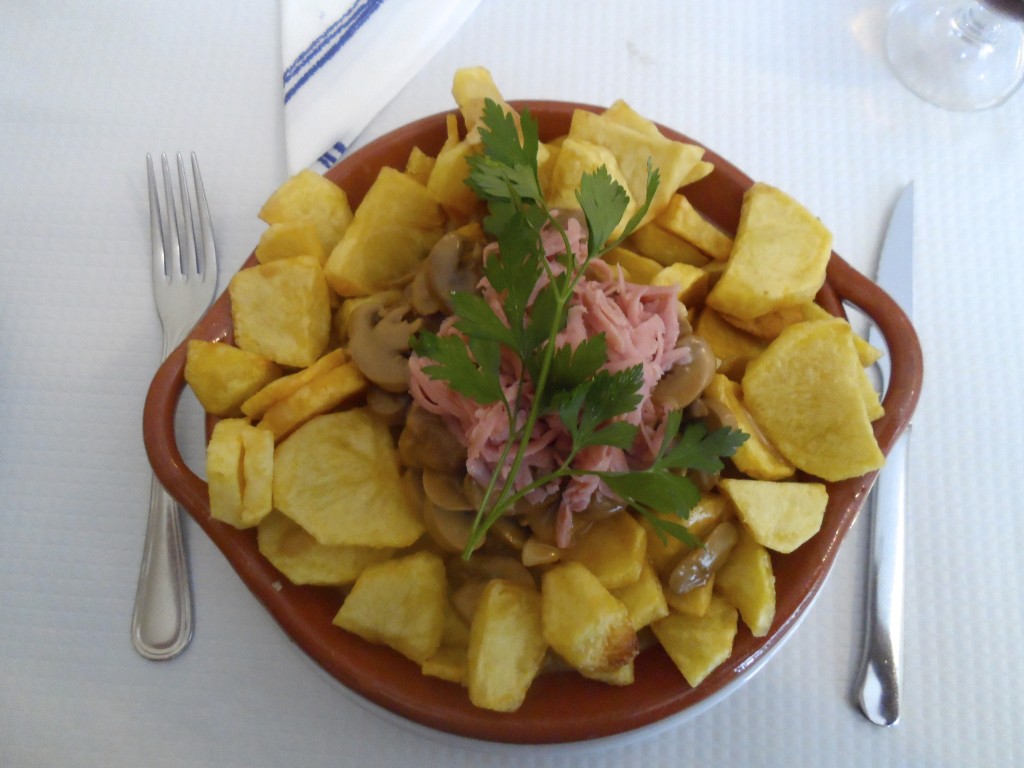 I am a huge fan of "Bife vazia a casinha" and I have eaten that on most occasions there. But Luis is also a master when it comes to seafood.
His garlic prawns are quite possibly the best in all Portugal. And if you want to try some real Portuguese marisco (seafood) then this is the place.
And Luis likes football.
Luis is a huge football supporter and possibly the biggest fan of Sporting Lisbon you will find in Lagos. When I first walked into the bar in 1999 it just happened to be the same day that Sporting Lisbon signed Danish goalkeeper Peter Schmeichel. So Luis has always called me Schmeichel and I am quite sure that he does not know what my real name is. Even though I have eaten there more than 300 times and had a chat with him every time.
This place is a must.
I really can't recommend This place enough and trust me: I am not getting paid to write this. I am doing it out of pure passion for the great food I have eaten there over the years. And the place is not expensive at all.
The prices are actually a little below average when compared to the other restaurants in Lagos.
And the portions there are massive.
The address of the place is "Rua da Oliveira 51" which is in the old city center.
It can be a little hard to find. But just ask anyone who looks like a local and they will most likely know it, as Luis is very well known locally because of his cooking skills.
So remember to visit Casinha do Petisco if you go to Lagos and say hello from Schmeichel 🙂