And I also love Singapore cause it's a multi cultural melting pot.
I have been to Singapore more than 20 times and while I was a bit lukewarm towards the city the first time I went there, I have really grown to like the city. I love Singapore cause it's such a functional society
 

that manages to embrace the different cultures that make up the population. In a way that the city never becomes bland and boring like some other banking cities does.

 
Singapore is a city of daring architecture.
If you think Dubai is the only place that builds crazy buildings that are totally out of this world then you are wrong.
Singapore Has in recent years seen some wild building projects popping up. And while some people don't like this and see it as artificial, I just say thank you for striving to build a prosperous tomorrow.
I do not have any problems with people with a lot of initiative. And if they make money from it I am not envious either. So thank you Singapore for building all these futuristic buildings.
There is a more quiet side to Singapore too.
Singapore is not all futuristic buildings.
Go down to Little India, Chinatown or away from the bustling center of Singapore and you will find that the city has many charming little pockets. They are very culturally diverse because of the vast number of cultures that make up the population of Singapore.
Singapore is a place to eat.
Singapore is one of the best places in the world to go out and eat. Because the city is so diverse in cultures and has a high average income so the quality of the food is mostly very high.
You have everything there from fancy Michelin restaurants to hawker centers (food courts), with excellent street food.
In my opinion there is little need to spend a fortune in the fancy restaurants.  The hawker centers are fantastic. They have a diversity that ensures you that you can eat there for several days without getting bored of the food.
Chinese, Malay and indian food is the dominant in Singapore. But you find plenty of other kitchens too. Because Singapore has always been a magnet for entrepreneurs from all over the globe who have settled there.
There is always something to celebrate in Singapore.
Because Singapore is home to so many cultures. There is mostly some holiday being celebrated by one of the ethnic groups there.
In Singapore they also have a tradition where the different religious faiths congratulate each other with banners during religious holidays.
I just got back from Singapore a few days ago where they celebrated Chinese new year. It was nice to see hindu temples, muslim mosques and christian churches wishing the Chinese buddhists a happy new year.
In Singapore they have realised that one of the ways to prosper is to set the trade free and respect each other and this is one of the main reasons why I love Singapore.
And Singapore has the best airport in the world.
Singapore Changi airport is almost always the winner when the world's best airports are crowned. And I totally agree that it's the top of the pops when it comes to airports.
One of the main reasons that it keeps winning is because they continue to strive there too and do not just lean back because they are number one.
When I was there a few days ago they were constructing the world's largest indoor waterfall. And they already have rooftop swimmingpools, spas, cinemas, free wifi and a few dozen other things that makes Changi a great place to be.
And you can rate almost everything at the airport right after using it, from the public toilets to the immigration official who stamps you into the country. You get free candy while you are waiting to get stamped into Singapore by the way. Now that is something other countries could learn from.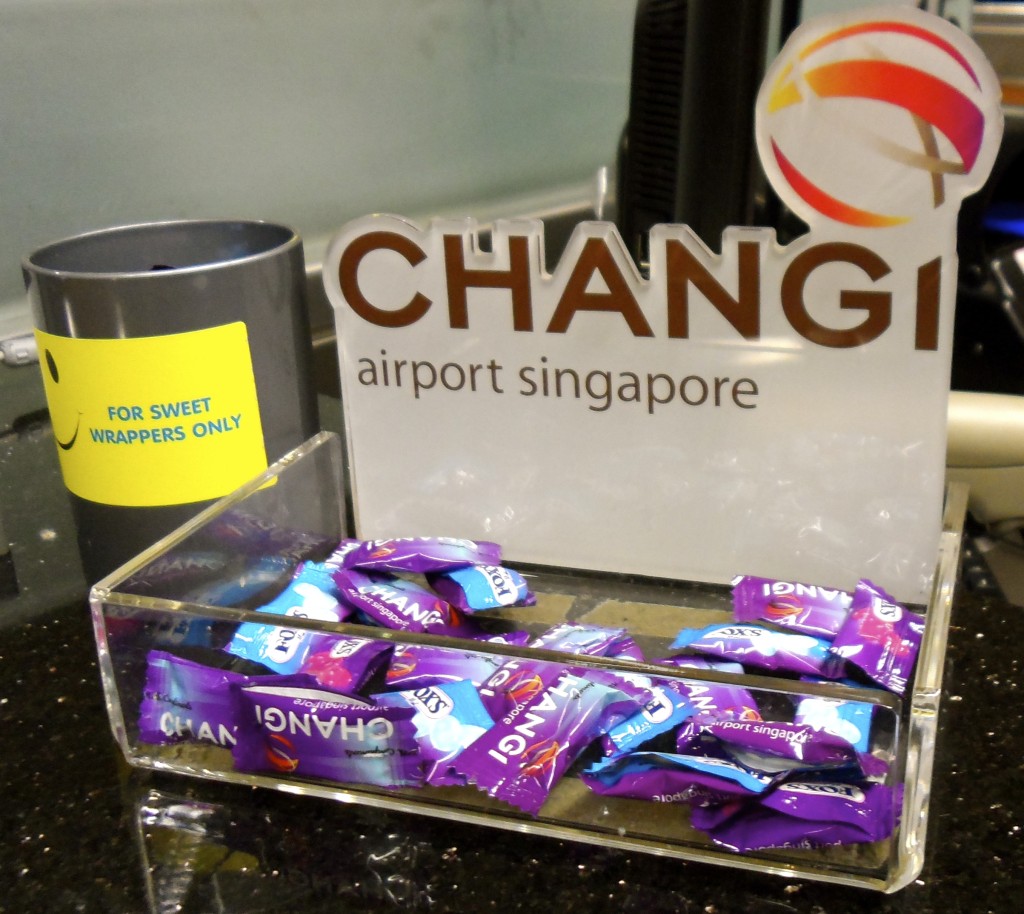 And by the way: I was given 40 Singapore Dollars the last time I was there too that I could use at the airport shops. This was a gift to all transit passengers that month from the airport. I just love that they go this way to be the best airport in the world.
Of course it's not everything that is rosy in Singapore.
Singapore has negative sides too. And I am fully aware of that.
It's a law and order society that is at times quite extreme with very hard punishment for small offenses.
Throwing a wrapper in the street, not flushing a public toilet after using it or giving chewing gum to a Singaporian citizen (yes, chewing gum is outlawed in Singapore) can set you back hundreds of dollars if you are caught by a cop in a bad mood.
It has to be said though that fines for these offenses are very rare.
There is also some bad treatment of migrant workers in Singapore that needs to be fixed, but I see this in many countries around the world, including my native Denmark, so calling that a Singapore problem would be wrong cause it's a worldwide problem in most of the countries where people can afford to take in foreign domestic workers and such.
But the problem needs to be addressed more, both in Singapore and many other places world wide.
And Singapore Sling at Raffles is probably the biggest tourist trap in the world.
The one thing that most tourists do when they are in Singapore is go to Raffles hotel and buy a Singapore Sling at the long bar.
I'm sure that was once a nice experience where the bartender was mixing the drink for you to perfection. And the bar had a nice ambience. But these days it's just a massive tourist trap. You pay 30 Singapore Dollars for a drink made out of premade Singapore Sling mix. There is not a local in sight apart from the bartender serving you the drink (and maybe he is not local either). Cause the people of Singapore know that this place is a rip off.
The band on the second floor plays the music so loud that it's hard to have a conversation on the floor below. Let alone if you are so unfortunate that they seat you on the second floor where the band is.
Raffles Hotel is a beautiful hotel. But forget about the Long Bar and the Singapore sling and embrace some of the truly great things in the city and not the world's biggest tourist trap.
But Singapore rocks and I will be back again and again.
But all in all Singapore is a place that I really like in this wonderful globalised world we live in.
According to a recent study, Singapore came out as the country in the whole world that was the best prepared for the challenges that lie ahead in the coming decades in an increasingly globalised world. I can easily see why Singapore came out first there.
I love the globalised times that we live in these days and Singapore is one of the most globalised cities in the world. So I will return. Again and again.